Hyunji Choi Schneibel, MD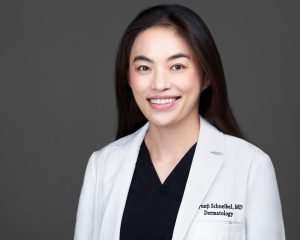 Dr. Schneibel is a board-certified dermatologist who practices in medical, surgical, and cosmetic dermatology. She treats both adult and pediatric patients and has a special interest in sun protection education and early detection and prevention of skin cancer. She is passionate about creating a positive impact in her patients' lives and making them look as great as they feel! She was born in South Korea and spent her childhood in the Philippines and Lake Mary, FL.
She graduated Cornell University with a bachelor's degree in microbiology and music. She then completed her medical degree at the University of Florida where she completed her year of internship before moving to Tampa, FL to complete her residency and chief residency training in dermatology. She is joined in Macon, GA by her husband, Erik, who practices interventional cardiology. In her spare time, she enjoys cooking, traveling, practicing yoga, playing the piano, and spending time with her family. She is excited to take care of patients in middle Georgia and offer top-notch dermatologic care.