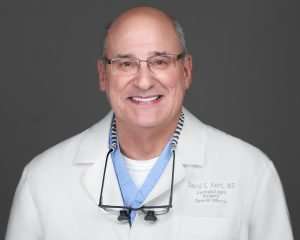 David Elliot Kent, a native Georgian, received his M.D. degree from the Medical College of Georgia in 1982. After completing his internship at Emory University and Grady Memorial Hospital, he completed a dermatology residency at the Medical College of Georgia in Augusta in 1986 where he served as chief resident during his final year.
Following his dermatology residency, he completed a fellowship in Mohs Micrographic Surgery, lasers, and dermatologic surgery under the tutelage of Dr. Hugh Greenway at the Scripps Clinic and Research Foundation in La Jolla California in 1987.
After completing his fellowship, Dr. Kent returned to Georgia as the founding partner of Dermatologic Surgery Specialists in Macon where he was first Mohs Fellowship trained dermatologist in the state outside of Atlanta.
Dr. Kent has performed over 36,000 Mohs surgical procedures and is one of a select number of program directors charged with training other dermatologists in Mohs surgery and reconstructive surgery accredited through the American College of Mohs Surgery. He specializes in difficult and recurrent skin cancers and is credentialed with OR privileges and local hospitals.
His aesthetic interests focus on helping patients improve their body contours and shape through both surgical and non-surgical options. He has performed tumescent liposuction with micro-cannulas for over 23 years. He received his training in tumescent liposuction under Dr. Patrick Lillis and Dr. Jeffrey Klein, the originator of the tumescent technique. Dr. Kent has incorporated lasers with liposuction to selectively melt fat and tighten skin with remarkable tightening and even faster recovery than what is seen in with traditional tumescent liposuction.
Dr. Kent is also an original investigator for the newest technology in non-surgical body shaping- Emsculpt. This is the only technology that focuses on muscle to tighten and sculpt your abdominal wall and provide the only non-surgical butt lift.
Dr. Kent feels it is so important to listen to his patients and deliver results oriented cosmetic and aesthetic services and help patients look better not different.
Dr. Kent is a committed teacher and regularly trains physicians from North American and abroad in tumescent laser-assisted liposuction and fractional ablative laser resurfacing. He has been an invited lecturer on cutting edge cosmetic procedures overseas including Hong Kong, Taiwan, Korea, and Brazil. He has served as a regular faculty member at the Superficial Anatomy and Cutaneous Surgery course in San Diego over the past 26 30 years giving lectures on a variety of topics including surgical anatomy tumescent liposuction, laser surgery, and soft tissue reconstruction. Dr. Kent has published numerous articles on topics of dermatologic surgery and reconstruction as well as chapters in textbooks.
Schedule Your Appointment