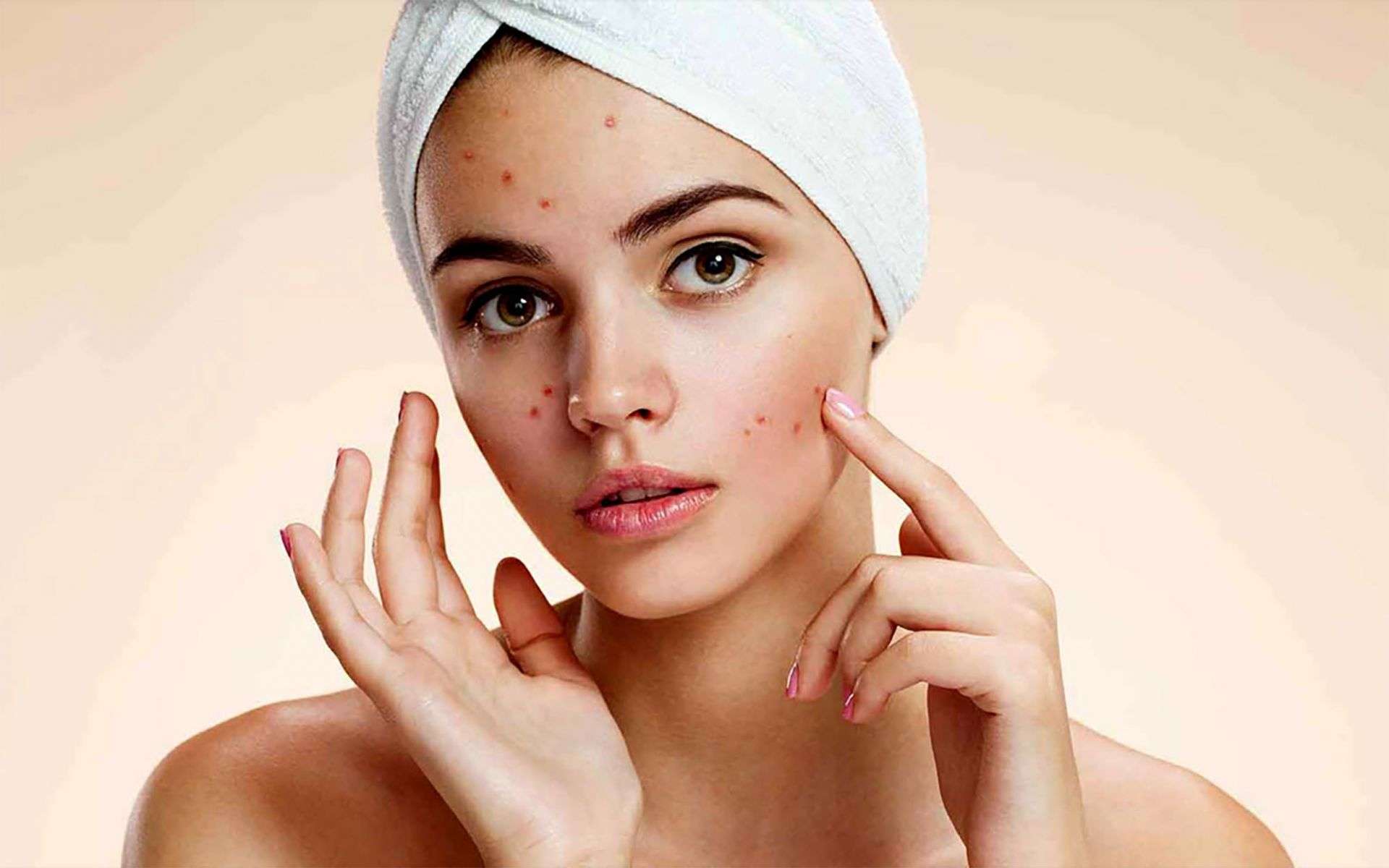 Acne is the number one reason people go to a dermatologist. While it routinely affects teenagers, many adults have acne issues as well. Acne develops when a specific bacteria in the follicles grow and feast on the white oily sebum produced by the sebaceous glands on the face. Facial pores become clogged with dead skin cells and inflamed causing red bumps, pus bumps, and cysts. Many factors contribute to acne and include genetics, stress, diet, hormones, and others. Acne definitely affects a person's self confidence and self-esteem. If inflammatory acne is not brought under control, acne scarring may result.
At Skin Care Physicians of Georgia, our skin care professionals evaluate each patient's acne and design a treatment plan just for them. There are no cookie cutter options. We are driven to give our patients the best results possible as soon as possible. Fortunately, many options are available beginning with proper skin care and include both topical and oral medications when necessary. We also have other options including skin peels, different light-based treatments as well as other options for severe cystic acne.
How do we treat acne?
Managing a patient's acne requires three key principles which are:
Doing everything we can to prevent and reduce scarring
Clear up existing acne lesions
Prevent new lesions from coming up
Today, there are many effective acne treatments. This does not mean that every acne treatment works for everyone who has acne. But it does mean that virtually every case of acne can be controlled.
People who have mild acne have a few blemishes. They may have whiteheads, blackheads, papules, and/or pustules (aka pimples). Many people can treat mild acne with products that you can buy without a prescription. A product containing benzoyl peroxide or salicylic acid often clears the skin. This does not mean that the acne will clear overnight.
Despite the claims, acne treatments do not work overnight. Successful treatments require at least 4 weeks to begin working to see improvement. 
At Skin Care Physicians of Georgia, we focus on providing our patients the most effective and quickest path to clearing their acne. We design a treatment plan that is unique for each patient.
Options for patients with mild non-inflammatory acne include specific skin wash products, and topical therapies.
Patients with inflammatory acne lesions (red papules, pustules, cysts, and nodules) may require oral medications.
Examples of these medications include oral antibiotics, and other medications including oral contraceptive pills and spironolactone for hormonal acne, and for severe or stubborn acne-Isotretinoin.
Fortunately, there are many office procedures and treatments that help patients with acne.  These treatments include:
Lasers and other light therapies: These devices reduce the p. acnes bacteria. Your dermatologist can determine whether this type of treatment can be helpful.
Chemical peels: There are many different types of superficial peels that can improve acne. Our experienced team of aestheticians will determine which type of peel will be safe and effective for your skin type.
Acne Surgery: Acne lesions ranging from blackheads, and small white milia (small plugged pores), to inflammatory papules and pustules can be safely removed in our office.
Acne Cyst Injections: Cystic acne lesions especially those that may be somewhat tender respond and shrink nicely when treated with dilute steroid injections. These are performed by our medical providers.
Acne breakouts are frustrating, but for many people, acne can turn into a long-lasting reminder in the form of acne scars. Acne scarring may cause physical as well as emotional concern. Acne scars often reduce a person's self-esteem and confidence. Being able to help our patients with this emotionally charged problem is most gratifying as we can help turn frowns into smiles lifting our patient's confidence.
At Skin Care Physicians of Georgia, our board-certified dermatologists and acne experts have more than 70 years of combined expertise and experience with a wide range of cutting-edge laser therapies, dermal fillers, and advanced dermatologic treatments such as radiofrequency microneedling to reduce your acne scars.
What Causes Acne Scarring?
Simply stated, acne scarring occurs with the type of acne that produces inflammatory acne bumps. Specifically, these are the larger red painful cysts, nodules, and pus bumps that produce inflammation. When the inflammation is intense- scarring may result. Acne scars can occur anywhere the acne lesions develop. It is important to realize that acne scars that develop on the face are often treated differently than acne scars on the back, shoulders, or chest. Our board-certified dermatologists have the expertise and experience to ideally select the optimal treatment option for the specific scarring our patients may have.
There are three (3) main types of acne scars:
Ice pick scars are those that are sharp and indented and these scars don't look any better when you stretch the surrounding skin
Box or atrophic scars are those that are more shallow depressions that may look better when the surrounding skin is stretched
Hypertrophic scars are those that are raised and firm often found on the back and chest
First and foremost, it is important to understand that before we begin to improve a patient's acne scars, the patient must not have active acne. This means that no new inflammatory bumps are coming up. Once a patient's acne is no longer active, we can begin to improve and remove any acne scars. We don't want to begin treatment, see the scars improve in appearance only to see additional acne develop and lead to more acne scars.
It is difficult to predict whether a patient will actually develop acne scarring. Often when a patient's acne is treated, it initially looks like there will be scarring. In reality, following appropriate treatment which may include Isotretinoin (Accutane), what initially looked like almost certain scarring resolves and looks amazing.
The treatment options we recommend will be based on a patient's type of acne scars present, their location, and the amount of pigment present in the skin. Simply having many options to treat patients is not enough. Having the experience and expertise to correctly identify these unique features for our patients and recommend a course of action is what sets Skin Care Physicians of Georgia apart.
Several options available to our patients include:
Laser and light therapies
Radiofrequency Microneedling
Chemical peels and specific bleaching agents
Photodynamic therapy
Injectable fillers
Subscision and minimally invasive surgical removal
We encourage anyone with acne scarring looking for help to contact our office and set up a consultation to see how our experts can help you with this difficult problem.
SCHEDULE YOUR CONSULTATION*
*Cosmetic consults are complimentary. Medical consults are subject to a fee.